Discover more from Acute Condition
The business of healthcare is changing rapidly.
Over 3,000 subscribers
How UPMC took over Pittsburgh
During the pandemic, UPMC executives tweaked public health measures as they went along, endangering patients and doctors.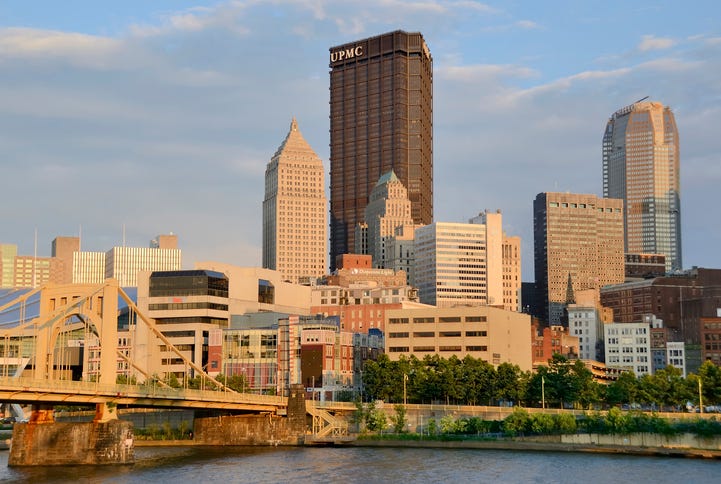 On March 11th of this year, Tom Hanks shocked America by announcing he had COVID-19. That same night, the NBA cancelled its season, making the pandemic seem much realer to Americans than it had previously. American hospitals would be in the center of the pandemic, treating patients and readying for an influx of patients with a bewildering array of symptoms. Hospitals began postponing elective procedures, which are scheduled and usually not urgent, to avoid exposing more patients and health care workers to the disease, taking up valuable hospital space, and using up personal protective equipment (PPE) that was already running short.
For hospital executives, the disease created both a health crisis and a financial crisis, because elective procedures represent a significant percentage of hospitals' revenue. Nonetheless, many hospital systems shut down their elective procedures quickly. The University of Pittsburgh Medical Center (UPMC) did not. Why UPMC chose to ignore health implications of continuing elective procedures during a pandemic speaks to a crisis in American health care—not that the care itself is poor, but that the incentives for hospital leaders is oriented around profit, rather than treating patients and health care workers safely and with respect.
Doctors were the first to protest. As early as March 16th, an open letter from doctors began circulating, asking UPMC to reconsider its stance and shut down non-essential surgeries. Then came the state. On March 17th, the Pennsylvania Secretary of Health formally requested a halt to elective procedures in hospitals across in the state. But on March 19th, the Pittsburgh Post-Gazette reported that UPMC's many hospitals were still performing procedures as mundane as screening colonoscopies.
By March 20th, the open letter had nearly 300 physician signatures. On March 25th, local news outlet WPXI quoted multiple anonymous health care workers, all frustrated with UPMC's stance. A UPMC surgeon declared that the situation was in "unbelievable disregard of public health safety."
Eventually, UPMC halted many of its elective procedures, only to restart them a month later. UPMC's chair of emergency medicine argued that "[t]he very high surge we prepared for simply hasn't happened." Executives were so eager to continue cycling patients through the system that one made the completely unfounded statement that Western Pennsylvania had been struck by a less dangerous strain of COVID-19 (virologist Angela Rasmussen called it an "extraordinary claim.") Even when Allegheny County (the county where Pittsburgh is located and UPMC is based) case numbers rose dramatically in July, UPMC proceeded as usual.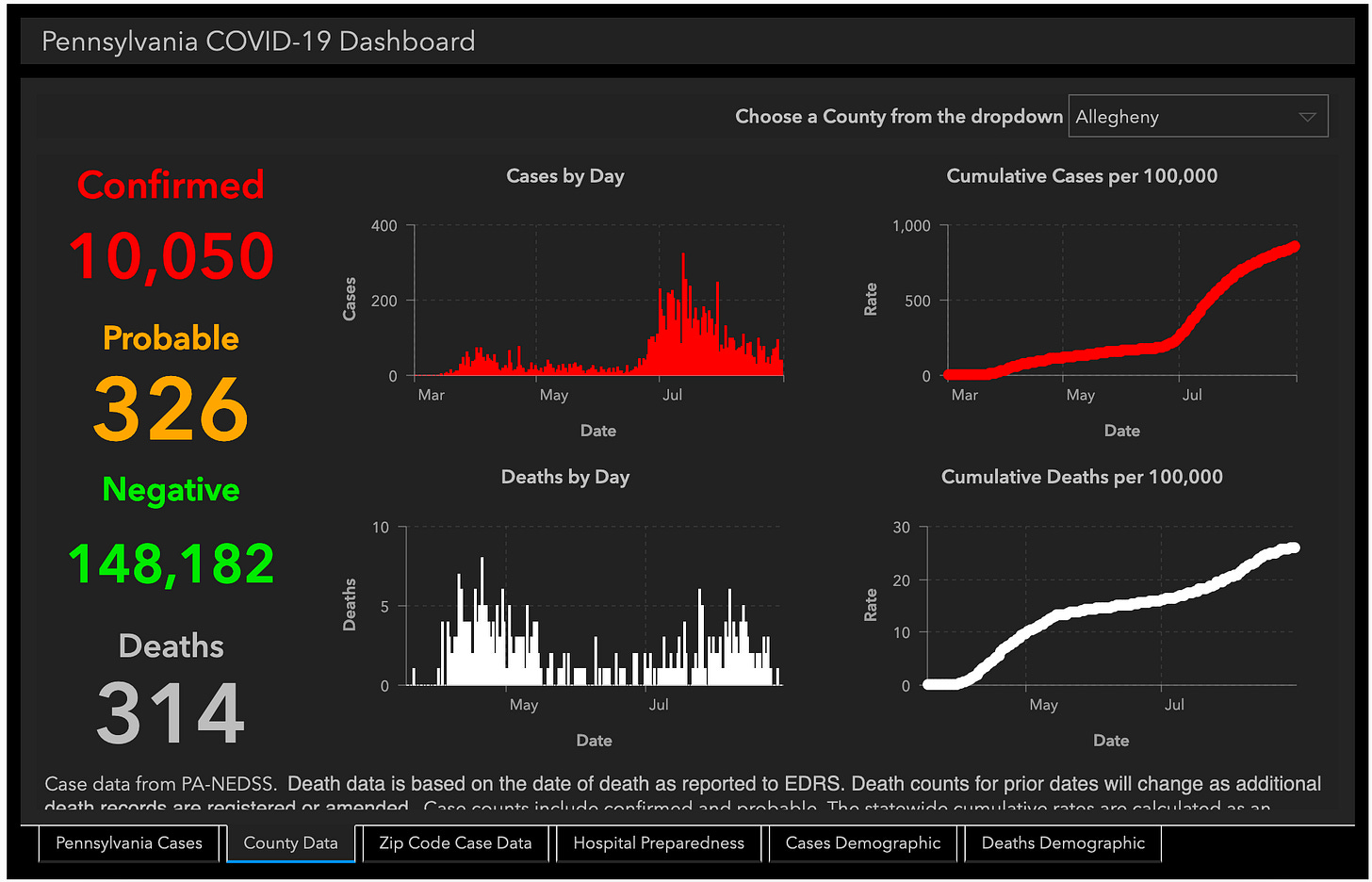 Source: https://www.health.pa.gov/topics/disease/coronavirus/Pages/Cases.aspx
UPMC's ability to ignore public health and government officials during the early days of a global pandemic didn't happen naturally. UPMC started relatively small, a hospital offering care to Pittsburgh workers and families in the city's industrial heyday. Then, in the 1970s, the health system brought on a Yale psychiatrist named Thomas Detre, who had big plans for UPMC.
Detre's timing was remarkable; as the steel industry collapsed, he offered an alternate vision of Pittsburgh as a town known for superior medical care and cutting-edge science. City officials, eager to keep Pittsburgh vibrant, protected UPMC nonprofit status and a lot of political leeway. By doing so, they inadvertently allowed the system to become so large that today, state officials struggle to rein it in.
Detre's successor, Jeffrey Romoff, pushed the vision even further. Since Romoff was named President and CEO in 2006, UPMC has made many acquisitions, spreading into New York and Maryland as well as Central PA:
Mercy Hospital, 2008

Hamot Medical Center, 2011

Altoona Regional Health System, 2013

Jameson Health System, 2016

Susquehanna Health, 2016 (Susquehanna then merged with Lock Haven Hospital and Sunbury Community Hospital in 2017, and Cole Memorial Hospital in 2018, which all became part of the UPMC system)

WCA Hospital, 2016 (became UPMC Chautauqua WCA)

Pinnacle Health, 2017 (Pinnacle merged with Hanover Hospital concurrently, so UPMC effectively acquired both)

Somerset Hospital, 2019

Western Maryland Health System, 2020
With these acquisitions, UPMC has become an enormous hospital system of 40 hospitals and many more physician practices. UPMC also offers health insurance, giving it massive market control and leverage over hundreds of thousands of patients. The city once controlled by steel is now controlled by UPMC; UPMC's administrative offices are even located in the former U.S. Steel building.
But in a former steel union town, UPMC has proved to be distinctly anti-union. As my colleague Udit Thakur wrote in the Washington Monthly, UPMC has been preventing its largely black, female hospital workers from organizing since at least 1970. That year, Coretta Scott King went to Pittsburgh to organize the workers. UPMC put a stop to it.
UPMC workers, who are still underpaid and without a union, have since tried again to organize. Each time, UPMC has shut it down. The National Labor Relations Board has issued two complaints about UPMC's tactics, arguing that UPMC has broken federal law. UPMC, a Pittsburgh lawyer wrote, drives the "largest anti-union campaign in Pittsburgh." And according to Pittsburgh United, a worker coalition, UPMC has the largest number of full-time employees enrolled in Medicaid of any employer except Walmart and McDonald's.
But hospital workers and patients have few alternatives. According to their Q2 2020 financial statements, UPMC holds about 60% of the market share in Allegheny County (the county seat of Pittsburgh), and 43% of western Pennsylvania.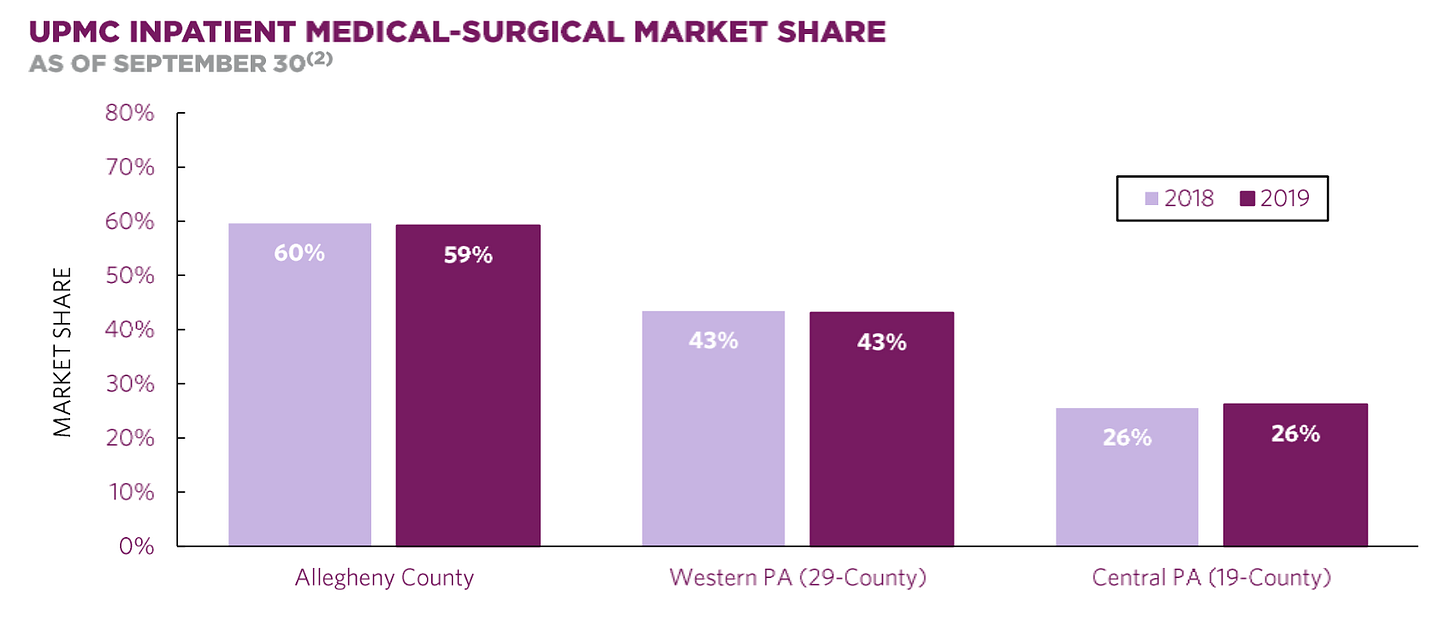 Source: https://www.upmc.com/-/media/upmc/about/finances/documents/cy2020-q2-quarterly-disclosure.pdf?la=en
For many Pittsburghers, UPMC's real power became apparent a decade before COVID-19. UPMC started fighting with Highmark, a competing insurer-health system in the Pittsburgh area, in a media and boardroom battle that had real implications for Pennsylvania families.
In 2010, Highmark—at the time just an insurance network—approached UPMC with a plan to transition Highmark patients to more value-based care. UPMC refused. Instead, in 2011, UPMC demanded Highmark begin paying UPMC approximately $400 million more per year for care received by Highmark-covered patients in UPMC facilities. Highmark responded by acquiring a string of hospitals in the Pittsburgh region, creating the Allegheny Health Network with Highmark as the parent company.
UPMC, already a joint insurer-health system, took umbrage at Highmark's encroachment on its territory. Before long, the two blanketed the Pittsburgh media market in attack ads. The attack ads were brutal, ubiquitous, and silly. Eventually, the ads became so out-of-hand that the governor launched a task force to compel the two to stop.
Finally, in 2013, UPMC, Highmark, the Pennsylvania Insurance Department, the state Attorney General, and the Department of Health signed five-year consent decrees allowing Highmark patients continued in-network access to UPMC facilities.
But as the consent decrees' June 2019 expiration date became imminent, the two began publicly attacking each other yet again. UPMC threatened to make all Highmark patients pre-pay for access to non-emergency care—a big problem, because UPMC controls the main cancer treatment center, the Pittsburgh Children's Hospital, and Magee Women's Hospital, which specializes in women's care. UPMC labeled its decision as one to "protect our patients."
Over 137 days of fighting, residents throughout the western Pennsylvania region had no idea what providers they would have access to on July 1, 2019. The government of Pennsylvania got involved; in February 2019, Attorney General Josh Shapiro sued UPMC, threatening its nonprofit status (under which it receives tax breaks). After a flurry of lawsuits and countersuits, UPMC eventually agreed to extend in-network status to Highmark patients for an additional 10 years.
UPMC's power, in other words, is so extensive that it took multiple state agencies and a targeted lawsuit to compel the health system to treat the patients of a competitor. It was this power that gave UPMC executives the confidence to override the objections of state officials and its own doctors to keep performing elective surgeries during COVID-19, putting its patients at risk.
UPMC's insistence on continuing to perform elective surgeries was not beneficent. As several trade publications have pointed out, UPMC has suffered slim margins in recent years—made particularly slim because of UPMC's rapid expansion plans and debt loads. The system is still struggling to swallow the cost of its 2017 acquisition of Pinnacle Health, a multi-hospital system in Central PA and its February 2020 acquisition of Western Maryland Health System.
In fact, UPMC's external disdain for public health measures were matched by internal financial preparations to weather the pandemic. According to its recently released Q2 financials, the health system giant pulled money from three different sources: more than $360M in CARES Act money, nearly $800M in Medicare advance payments, and $2.17 billion in private loans and debt offerings. The health system was one of only 25 organizations in the country that received more than $1 billion in federal pandemic financing.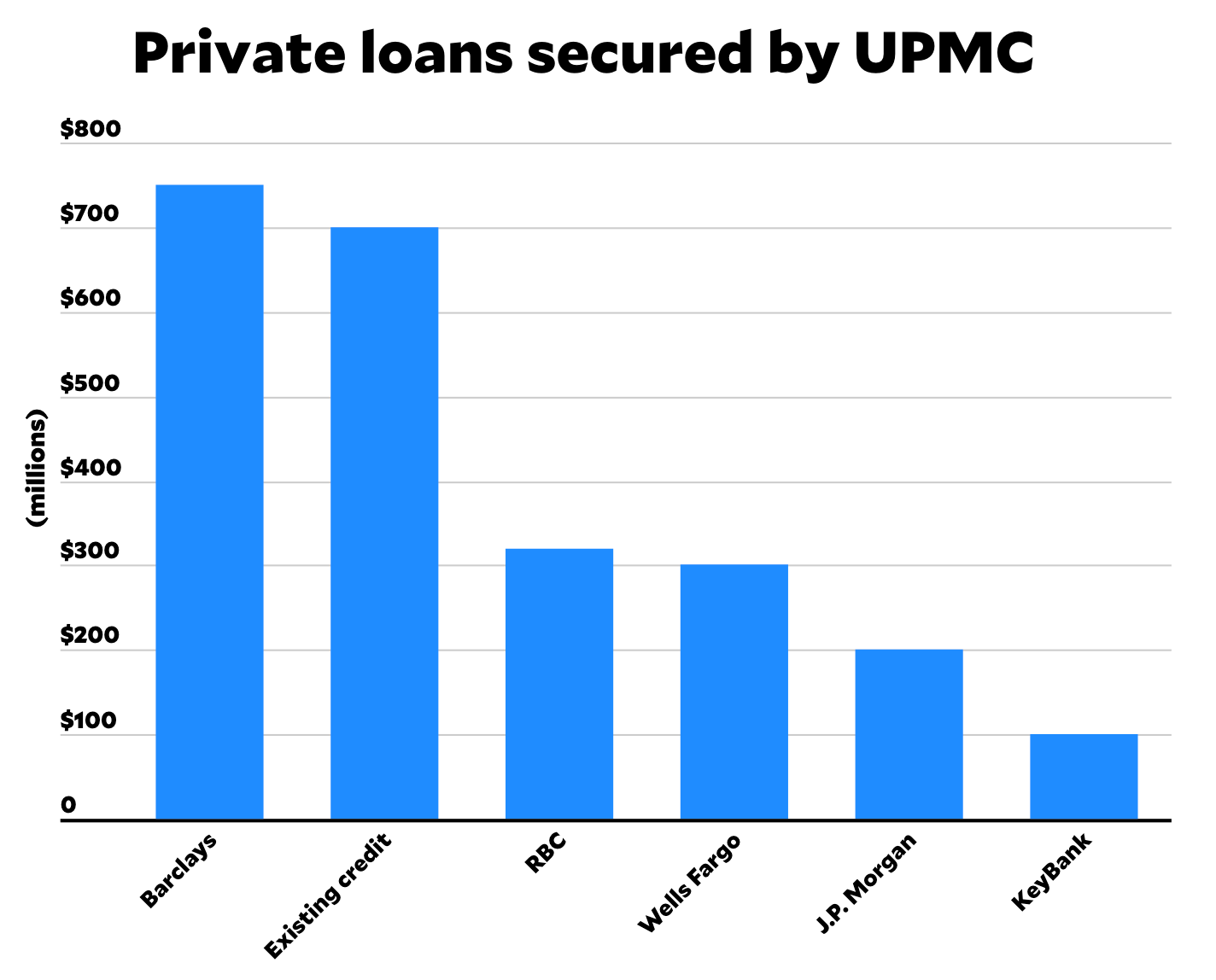 Source: https://www.publicsource.org/upmc-scored-billion-dollar-covid-healthcare-aid/
UPMC, in other words, has been able to play both sides of the game. It has the ability to rapidly raise hundreds of millions of dollars of debt out of fear of a pandemic while also exposing patients to danger by performing elective surgeries. It's a powerhouse that shuts down labor organizing and forces doctors to perform nonessential colonoscopies during a pandemic, but it's also prepared to defend its nonprofit tax exemptions using teams of high-powered lawyers.
UPMC's market power might not seem overwhelming—slightly more than half the Pittsburgh market—but UPMC has the power to shape public health policy that affects the whole state, power it wields to its own financial benefit. A confluence of factors, including city officials' eagerness to keep Pittsburgh vibrant, UPMC's strategy to capture power through widespread acquisition, and the nonprofit tax exemption that UPMC enjoys, have allowed the health system to accumulate this power. And unless Pennsylvania lawmakers and regulators take action against the system, Pennsylvanians can expect to continue getting public health advice from a hospital system pushing fake narratives for profit.