Discover more from Acute Condition
The business of healthcare is changing rapidly.
Over 4,000 subscribers
Private equity in: Behavioral health
In 2008, the Parity Act triggered a wave of PE investment in behavioral health. It led to a decade of abusive, shoddy care.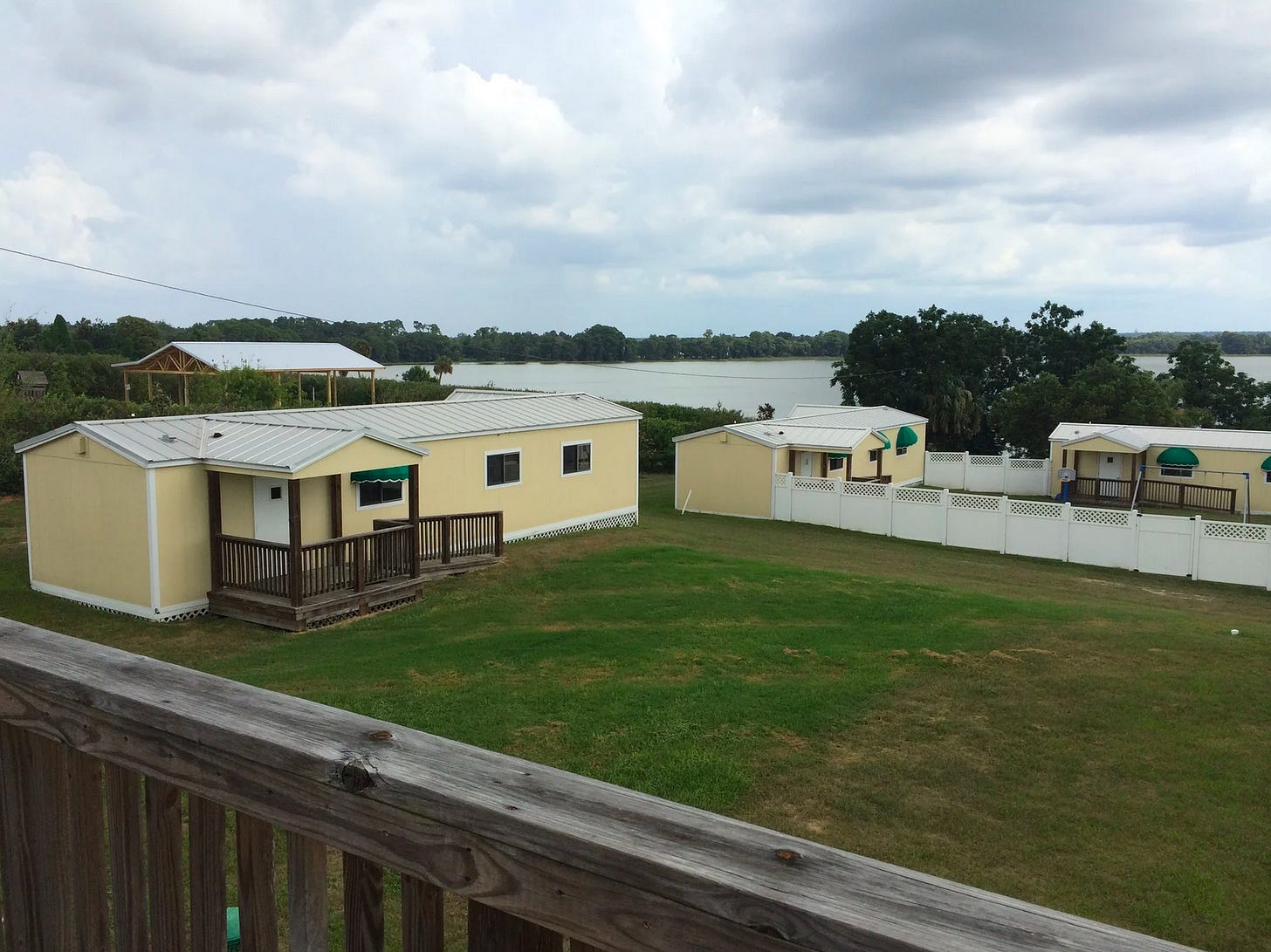 Carlton Palms (now closed), a private equity-owned group home;
photo courtesy of ProPublica at https://www.propublica.org/article/florida-school-tied-up-autistic-boy-44-times-in-2-months
Last May, New Jersey's behavioral health system was upended. After years of allegations against a system of group homes owned and operated by Bellwether Behavioral Health, the state appointed a special monitor. On May 22, 2019, her damning report was released. The special monitor recounted multiple instances of bathrooms smeared with feces, of an "overwhelming number of black flies," and of intermingled prescription medications. New Jersey became the fifth state to cease sending patients to Bellwether homes. After Maryland, the sixth state, sued Bellwether in the summer of 2019 alleging "Dickensian" conditions, it appears the corporation went into bankruptcy and dissolved.
From a patient perspective, Bellwether was an abject failure. But it was likely a success for its owners, Wellspring Capital Management. After years of bad publicity and dogged reporting by ProPublica, Wellspring removed all mentions of Bellwether from its website. But the private equity firm didn't divest from Bellwether, even after it was clear that cost-cutting measures and high staff churn created a dangerous patient environment.
As I hope has been clear over the last few weeks of this newsletter, private equity's stakeholder incentives almost inevitably clash with good patient care. In the case of behavioral health, the opportunities for greed and abusive cost-cutting are heightened; many patients are extremely vulnerable, addicted to substances, or unable to verbalize the poor treatment they're receiving inside group homes.
Parity Act
Before 2008, trying to find a behavioral health clinic was a gamble. ("Behavioral health" is an umbrella that encompasses mental health care but also therapy around physical behaviors like addiction, and longer-term care for those unable to live alone.) Insurers were not required to cover behavioral health services, so treatment was reserved for patients disabled enough to be on Medicaid or wealthy enough to seek private treatment.
In 2008, the behavioral health space dramatically changed. Congress passed the Parity Act, requiring insurers to reimburse behavioral health services at parity with physical health services. The Parity Act was huge for patients; suddenly, access to treatment was within reach. But the sudden demand also created a private equity rush into the space. By 2016, a record 73 private equity transactions constituted 60% of all deals in behavioral health.
Reports from the industry circa 2010 talk of behavioral health as a business worthy of investment—particularly in the autism and addiction care areas. Between rising autism diagnoses and the tragedy of the opioid epidemic, demand in these subcategories outpaced other behavioral health sectors. As one industry website noted, the "critical and often chronic nature of the needs [behavioral health clinics] address, businesses related to behavioral health…may seem like a gainful opportunity for investors."
Private equity owners rolled up existing facilities and opened new ones, even though the quality of care at these facilities was poor.
Group homes
Before the New Jersey investigation into Bellwether revealed that its homes were filthy and patients not adequately cared for, ProPublica was conducting investigations in Florida. One notorious facility, called Carlton Palms, used mechanical restraints on their residents more than 28,000 times in less than five years. In comparison, most providers stopped using mechanical restraints years ago because the restraints are considered inhumane (the U.K. banned the use of mechanical restraints in asylums during the 1800s).
ProPublica reported on cases of staff striking children or neglecting them. In June 2013, a nonverbal teenage girl at Carlton Palms died of dehydration after spending a night strapped to a wheelchair, vomiting uncontrollably without staff intervention. In 2015, ProPublica reported that one autistic boy at Carlton Palms had been tied up 44 times in less than two months and medicated unnecessarily.
A combination of necessity—state officials can struggle to find therapeutic homes for severely disabled children and Carlton Palms cared for approximately 30% of all Floridians who needed group home services—and sheer lobbying power resulted in Carlton Palms and Bellwhether escaping legislation or enhanced monitoring until several years later, when evidence from multiple states of abusive care became predominant.
As the New Jersey and Maryland investigations revealed, Florida wasn't the only state with notorious facilities run by Bellwether/Wellspring Capital Management. Cost-cutting measures—undoubtedly to juice the value of the Bellwether investment for Wellspring stakeholders—directly affected patient care. Low pay and poor training led to a staff with a high turnover rate. And with high staff churn, staffers had little time or incentive to get to know patients—many of whom acted out only when they were in pain or distressed. In lieu of close patient care, staffers resorted to abusive mechanical restraint techniques.
Bellwether/Wellspring certainly isn't the only corporation with abusive behavioral health facilities. Sequel Youth & Family Services, owned by Altamont Capital, is a network of approximately 55 group homes, inpatient facilities, and schools for children and adults with behavioral needs. As PE Stakeholder has reported, neglect at Sequel facilities has led to multiple deaths and many instances of abuse.
Although Sequel continues to operate, employee reviews on the job website Indeed paint a grim picture:
The ownership of other large networks of behavioral health services is obscured under layers of umbrella companies. Community Intervention Services, for example, is owned by H.I.G. Capital. According to CIS's website, the corporation was formed in 2012 with "the express purpose" of building a network of providers by consolidating small, community-based providers.
A recent acquisition of former CIS networks gives a sense of the scale. Pathways Health and Community Support (itself owned by Atar Capital) recently acquired CIS's Access Family Services (13 locations of group homes, outpatient clinics, and a foster care program), Family Behavioral Resources (22 locations across Pennsylvania and Ohio), and Autism Education and Research Institute (itself merged with Achieving in Higher Education with Autism / Developmental Disabilities).
In an ongoing whistleblower case in Massachusetts, joined by the state attorney general, CIS is accused of using unlicensed and unsupervised practitioners and fraudulently billing Medicaid.
Addiction services
The rise of the opioid epidemic in the 2010s presented a revenue opportunity for private equity looking to enter the behavioral health space. According to the Wall Street Journal, private equity was the "driving force" in the rise of methadone clinics, which are clinics that parcel out drugs to keep the edge off opioid withdrawal. By the WSJ's estimates, in 2007, approximately 60% of opioid treatment clinics were nonprofits. By 2017, the ratio had flipped; sixty percent of opioid treatment clinics were for-profit.
Unlike group homes for autistic patients, many of which rely heavily on Medicaid payments, opioid treatment clinics owned by private equity do not take Tricare (military insurance) or Medicaid. This is probably because, as of 2016, coverage for group homes was more common than coverage for methadone across states. It may also be because many middle- and upper-class families are able to afford the approximately $300 monthly out-of-pocket cost for methadone treatment (creating an incentive to push more families into out-of-pocket care, rather than accept lower reimbursements for Medicaid), but few families can afford five- or six-figure bill for group homes without Medicaid's help.
Not accepting Tricare or Medicaid means that these private equity-owned opioid treatment facilities freeze out veterans and the poor and disabled—even though these populations have comparatively high rates of opioid addiction.
Private equity owners try to spin their lack of Medicaid acceptance as a virtue, as saving space for people with private insurance. This can quickly sound like a strategy for blaming people on Medicaid for not having private insurance. As one private equity owner told NPR, "[w]hat we found not just in Massachusetts but nationwide is this lack of availability for just your average, everyday individual who's been dutifully paying their insurance premium - are those are the ones that are generally having a hard time accessing care." Hence, a lucrative business opportunity.
In 2014, Bain Capital acquired the largest chain of methadone clinics in Massachusetts, Habit OPCO, Inc. As the director of a substance abuse program at McLean Hospital in Massachusetts told the Boston Globe at the time, "[t]he problem I find with some of the for-profit clinics is the absolute minimum required by law becomes the absolute maximum they're willing to do for their patient." The Globe noted that while staff at Habit OPCO said profits were not the priority, a patient-focused stance would be "unusual position to take for executives at an enterprise owned by Bain."
In early March 2020, before the COVID-19 pandemic struck the U.S., Vox ran a series called The Rehab Racket. They covered the shady underworld of addiction services brokers and the "shuffle" of patients going from one treatment facility to the next. Covering the strange world of addiction services in-depth is beyond the scope of this particular essay, but Vox's work is worth reading—the gaps in patient care and the cyclical nature of most addiction treatment allow private equity firms to monetize patients' confusion and addiction.
Conclusion
Today, private equity's involvement in behavioral health services is beginning to taper off. While some private equity firms are still involved in previous investments or are trying to roll up portions of the industry, many are looking for the next revenue opportunity. "Behavioral health" has become a watchword for "solid investment." As one industry website noted, "[i]n the fiercely competitive arena of healthcare investment, investors are under constant pressure to find the next 'behavioral health' – a healthcare subsector that experienced a significant increase in consumer demand and, in turn, significant investment starting about 10 years ago."
The behavioral health sector is no better—and seemingly quite a bit shoddier and more fraudulent—than it was before the 2008 Parity Act triggered a flood of private equity investment. Patients with severe autism and addiction still struggle to find caring providers and safe group homes. But with only their stakeholders to please, private equity owners have made their money on the industry and can keep moving along.